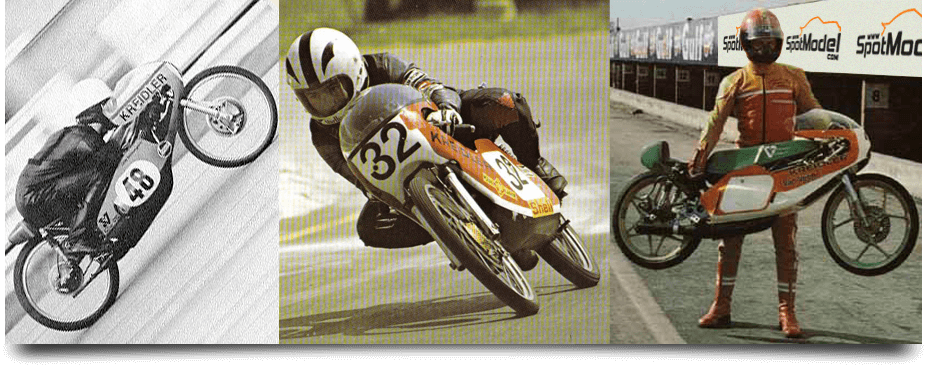 Kreidler
Motor racing has become nowadays way more technical, up to really high levels, and there are only a handful of brands that have enough engineering power and properly sized pockets to be able to continue developing cutting-edge racing machines. But a few years ago things were very different, there were many "garage brands", many small manufacturers and many small engineering teams who were capable of manufacturing really fast and efficient devices. In this big bag of brave brands there is one based in Germany that we especially like:
Kreidler
.
These guys started in 1951 manufacturing
small mopeds
and won no less than
9 world championships
in the
50cc
category, which is not a small thing to say. Their very light bikes flew around the track, and by the end of the race the rider could practically carry the bike over one shoulder.
We are in luck because
Brach Model
, with their delicious resin models, announces the
50cc Kreidler van Veen
that with the number #45 led the legendary
Ángel Nieto
to win the Motorcycle World Championship in
1975
. Superb!!
A wonder that we will receive shortly at
SpotModel
and that, of course, the boss is going to build. Because... who can resist this?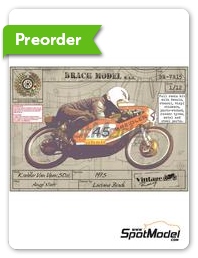 Brach Model: Model bike kit 1/12 scale - Kreidler Van Veen 50cc #45 - Angel Nieto (ES) - Motorcycle World Championship 1975 - metal parts, paint masks, photo-etched parts, resin parts, rubber parts, vacuum formed parts, other materials, assembly instructions and painting instructions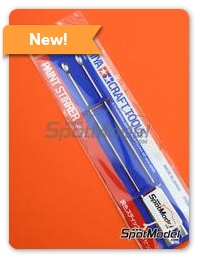 Tamiya: Paint tool - Paint Stirrer - metal parts - 2 units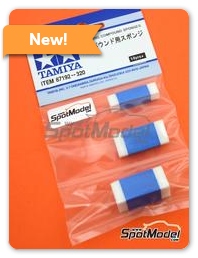 Tamiya: Polish - Polishing compound sponges - other materials - 1 + 1 + 1 units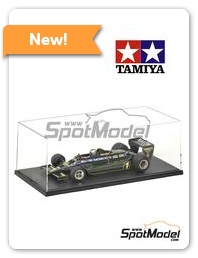 Tamiya: Display case 1/20 scale - Display case P for 1/20 vehicles - plastic parts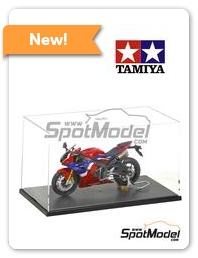 Tamiya: Display case 1/12 scale - Display case D for 1/12 bikes - plastic parts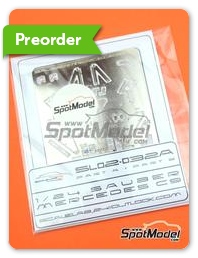 ScaleLab 24: Detail up set 1/24 scale - Sauber Mercedes C9 - photo-etched parts, seatbelt fabric and assembly instructions - for Tamiya references TAM24091, TAM24310 and TAM24359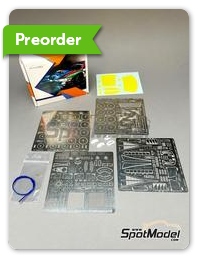 ScaleLab 24: Detail up set 1/24 scale - Audi R8 LMS Evo - paint masks, photo-etched parts, resin parts, seatbelt fabric, turned metal parts and tobacco sponsor decals - for Nunu references PN24026 and NU24026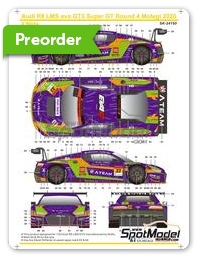 SK Decals: Marking / livery 1/24 scale - Audi R8 LMS Evo GT3 X Works Team sponsored by ATeam #33 - Shaun Thong (CN) + Takeshi Kimura (JP) - Autobacs Super GT Series 2020 - water slide decals and assembly instructions - for Nunu references PN24026 and NU24026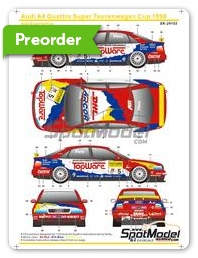 SK Decals: Marking / livery 1/24 scale - Audi A4 Quattro Abt Sportsline Team sponsored by DHL Topware #5, 18, 45 - Emanuele Pirro (IT), Christian Abt (DE), Frank Biela (DE) - German Super Tourenwagen Cup (STW - Super Tourenwagen Cup) 1998 - water slide decals and assembly instructions - for Nunu reference PN24035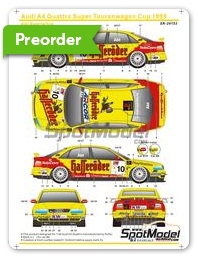 SK Decals: Marking / livery 1/24 scale - Audi A4 Quattro Abt Sportsline Team sponsored by Hasseröder #9, 10 - Kris Nissen (DE), Christian Abt (DE) - German Super Tourenwagen Cup (STW - Super Tourenwagen Cup) 1999 - water slide decals and assembly instructions - for Nunu reference PN24035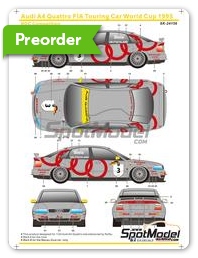 SK Decals: Marking / livery 1/24 scale - Audi A4 Quattro ROC Competition Team sponsored by Hewlett Packard #3 - Frank Biela (DE) - Guia Race of Macau, FIA Touring Car World Cup 1995 and 1996 - water slide decals and assembly instructions - for Nunu reference PN24035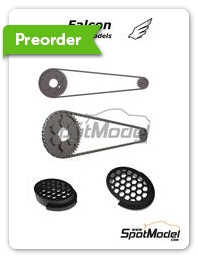 Falcon Scale Models: Chain set 1/12 scale - Ducati Superleggera V4 - 3D printed parts - for Tamiya reference TAM14140 - 1 + 2 units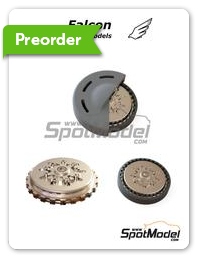 Falcon Scale Models: Clutch 1/12 scale - Ducati Superleggera V4 - 3D printed parts - for Tamiya reference TAM14140 - 1 units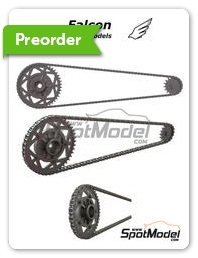 Falcon Scale Models: Chain set 1/12 scale - Yamaha YZF-R1M - 3D printed parts - for Tamiya references TAM14133, HC-14133 and TMY14133 - 1 units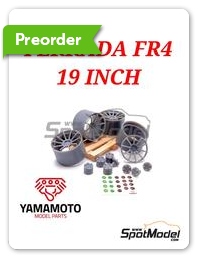 Yamamoto Model Parts: Rims 1/24 scale - Ferrada FR4 19 inches - 3D printed parts and water slide decals - 4 units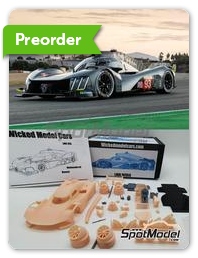 Wicked Model Cars: Model car kit 1/24 scale - Peugeot 9X8 Hybrid sponsored by Total Energies #93, 94 - Paul di Resta (GB) + Mikkel Jensen (DK) + Jean-Éric Vergne (FR), Loïc Duval (FR) + Gustavo Menezes (US) + James Rossiter (GB) - FIA WEC 6 Hours of Monza 2022 - 3D printed parts, metal parts, vacuum formed parts, other materials and assembly instructions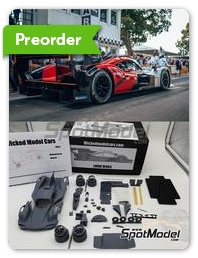 Wicked Model Cars: Model car kit 1/24 scale - Porsche 963 LMDh Penske Motorsport Team - Dane Cameron (US) - Goodwood Festival of Speed 2022 - 3D printed parts, metal parts, vacuum formed parts, other materials and assembly instructions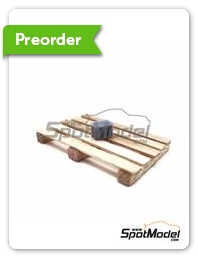 Yamamoto Model Parts: Detail 1/24 scale - Sport car battery - 3D printed parts - 1 units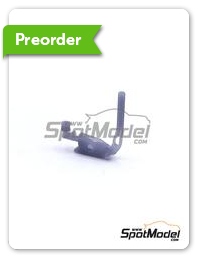 Yamamoto Model Parts: Detail 1/24 scale - Hydraulic handbrake type 1 - 3D printed parts - 1 units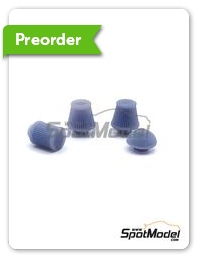 Yamamoto Model Parts: Detail 1/24 scale - Sport air filter set - 3D printed parts - 4 units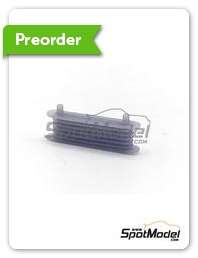 Yamamoto Model Parts: Detail 1/24 scale - Oil cooler small - 3D printed parts - 1 units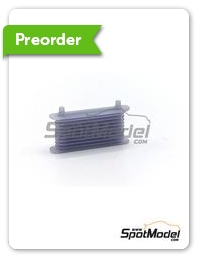 Yamamoto Model Parts: Detail 1/24 scale - Oil cooler big - 3D printed parts - 1 units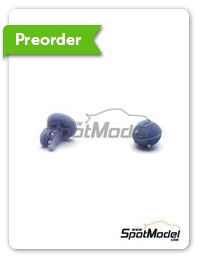 Yamamoto Model Parts: Detail 1/24 scale - Brake pump and coolant reservoir - 3D printed parts - 2 units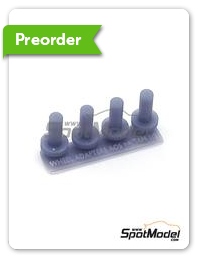 Yamamoto Model Parts: Detail 1/24 scale - Adapters for Aoshima rims to Tamiya/Beemax - 3D printed parts - 4 units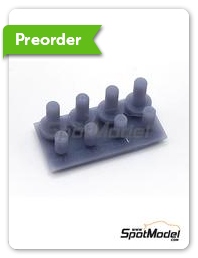 Yamamoto Model Parts: Detail 1/24 scale - Adapters for StreetBlisters rims to Tamiya/Beemax - 3D printed parts - 8 units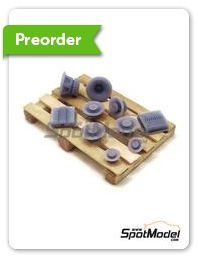 Yamamoto Model Parts: Detail 1/24 scale - Car Audio set - 3D printed parts - 10 units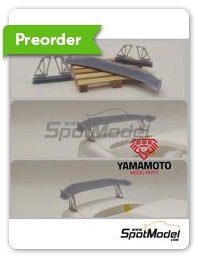 Yamamoto Model Parts: Wing set 1/24 scale - GT rear spoiler type 1 - 3D printed parts - 1 units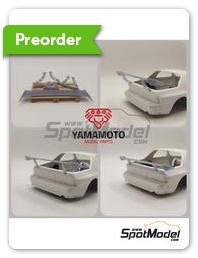 Yamamoto Model Parts: Wing set 1/24 scale - GT rear spoiler type 2 - 3D printed parts - 1 units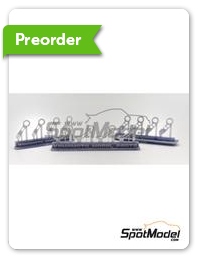 Yamamoto Model Parts: Detail 1/24 scale - Tow hook set - 3D printed parts - 12 units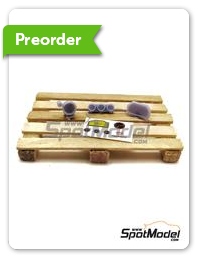 Yamamoto Model Parts: Detail 1/24 scale - Tachometers - sports dashboards - 3D printed parts and water slide decals - 3 units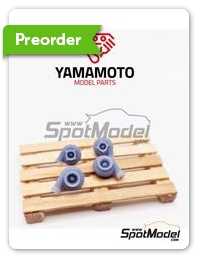 Yamamoto Model Parts: Detail 1/24 scale - Turbo GT30S - 3D printed parts - 2 units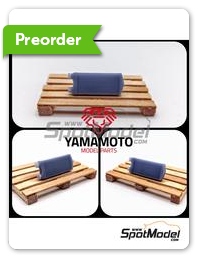 Yamamoto Model Parts: Detail 1/24 scale - Intercooler type D - 3D printed parts - 1 units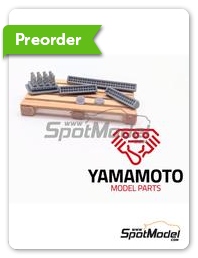 Yamamoto Model Parts: Lamp pod 1/24 scale - LED Light bar Set - 3D printed parts - 5 units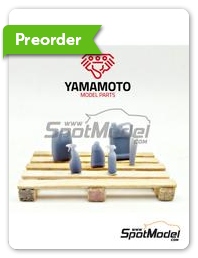 Yamamoto Model Parts: Detail 1/24 scale - Containers for oils and workshop chemicals - 3D printed parts - 6 units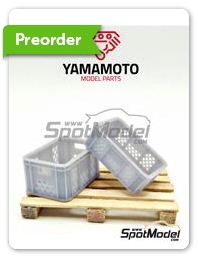 Yamamoto Model Parts: Detail 1/24 scale - Storage boxes - 3D printed parts - 2 units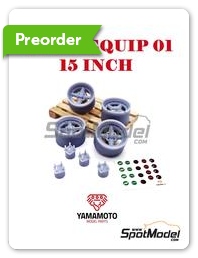 Yamamoto Model Parts: Rims 1/24 scale - Work Equip 01 15 inches - 3D printed parts and water slide decals - 4 units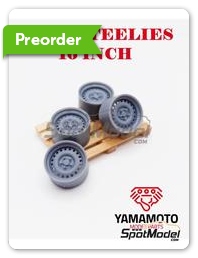 Yamamoto Model Parts: Rims 1/24 scale - Wide Steelies 16 inches - 3D printed parts - 4 units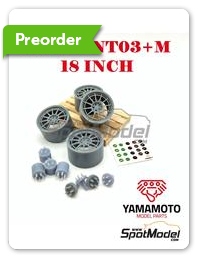 Yamamoto Model Parts: Rims 1/24 scale - Enkei NT03+M 18 inches - 3D printed parts and water slide decals - 4 units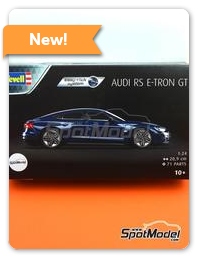 Revell: Model car kit 1/24 scale - Audi e-tron GT - plastic parts, rubber parts, water slide decals and assembly instructions
Copyright © SpotModel