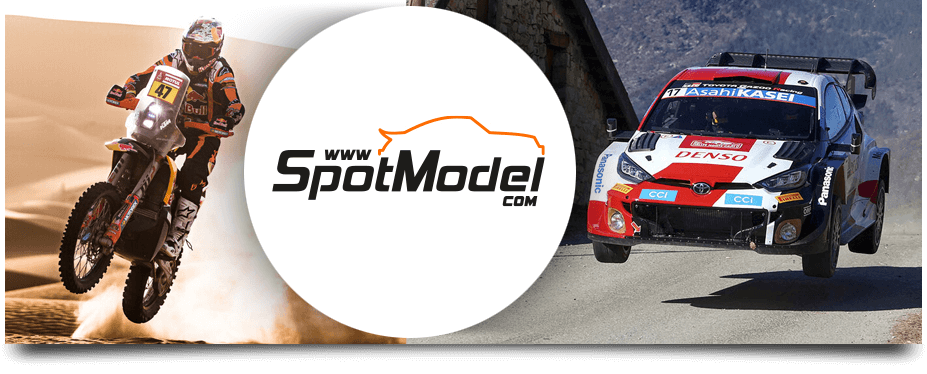 Excitement 2023
A few days ago the exciting
Dakar Rally
came to an end, with fantastic dune landscapes, unusual waterspouts and a spectacular end to the event, especially in the motorcycle section. We have enjoyed it very much.
The excitement must have caught a plane to get to Europe right away, because this year's
Rallye Monte-Carlo
has been reaaally gooooood, both inside the road and on its shoulders...
And we continue talking about excitement, because we are at the gates of the
Nuremberg Toy Fair
, where we will learn more about the plastic novelties for this year. We'll tell you soon!!
2023 begins full of exciting news, and at
SpotModel
we love to share them with you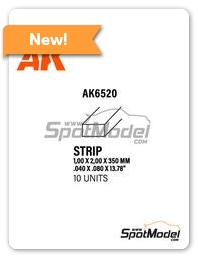 AK Interactive: Plasticard - Strips 1.00 x 2.00 mm - plastic parts - 10 units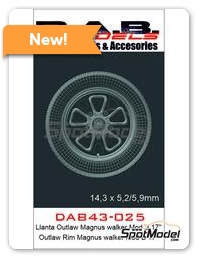 D.A.B. Models: Rims and tyres set 1/43 scale - Outlaw Magnus Walker Type B - 17" inches - 3D printed parts - 4 units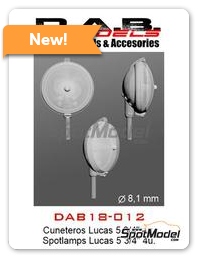 D.A.B. Models: Lights 1/18 scale - Lucas spotlamps 5 3/4 inches with lower mount - 3D printed parts and other materials - 4 units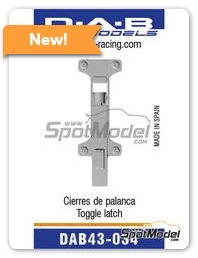 D.A.B. Models: Bonnet pins 1/43 scale - Toggle latch - 3D printed parts - 10 units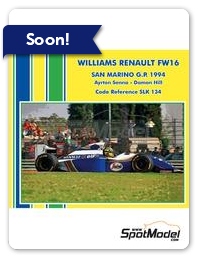 Tameo Kits: Car scale model kit 1/43 scale - Williams Renault FW16 Williams Grand Prix Engineering Team sponsored by Rothmans #0, 2 - Damon Hill (GB), Ayrton Senna da Silva (BR) - San Marino Formula 1 Grand Prix 1994 - metal parts, photo-etched parts, rubber parts, turned metal parts, vacuum formed parts, water slide decals, white metal parts, assembly instructions, painting instructions and tobacco sponsor decals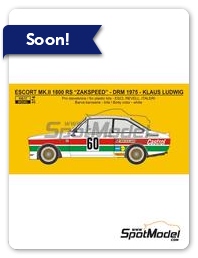 Reji Model: Marking / livery 1/24 scale - Ford Escort MK.II 1800 RS Zakspeed Team sponsored by Castrol #60 - Klaus Ludwig (DE) - Deutsche Rennsport Meisterschaft DRM 1975 - photo-etched parts, resin parts, water slide decals and assembly instructions - for Italeri references 3664, IT3664 and ITA3664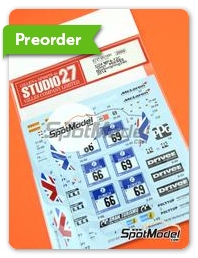 Studio27: Marking / livery 1/24 scale - McLaren MP4-12C GT3 Dörr Motorsport Team sponsored by PPG #66, 69 - Kevin Estre (FR) + Peter Kox (NL) + Tim Mullen (GB) + Sascha Bert (DE), Rudi Adams (DE) + Álvaro Parente (PT) + Sebastian Asch (DE) + Arno Klasen (DE) - 24 Hours Nürburgring 2014 - water slide decals and placement instructions - for Fujimi references FJ12555, FJ125558, RS-44, FJ125633, 12563, RS-41, FJ125701, 12570, RS-74, FJ125879 and RS-62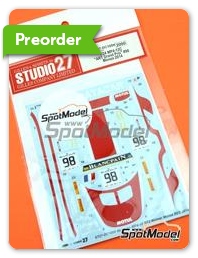 Studio27: Marking / livery 1/24 scale - McLaren MP4-12C GT3 ART Grand Prix Team sponsored by Eurodatacar #98 - Grégoire Demoustier (FR) + Alexandre Prémat (FR) - Blancpain Endurance Series 2014 - water slide decals and placement instructions - for Fujimi references FJ12555, FJ125558, RS-44, FJ125633, 12563, RS-41, FJ125701, 12570, RS-74, FJ125879 and RS-62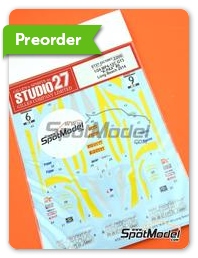 Studio27: Marking / livery 1/24 scale - McLaren MP4-12C GT3 K-Pax Racing Team #6, 9 - Robert Thorne (US), Alex Figge (US) - Pirelli World Challenge 2014 - water slide decals and placement instructions - for Fujimi references FJ12555, FJ125558, RS-44, FJ125633, 12563, RS-41, FJ125701, 12570, RS-74, FJ125879 and RS-62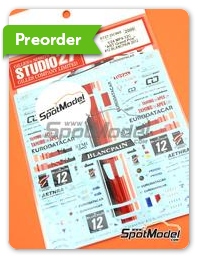 Studio27: Marking / livery 1/24 scale - McLaren MP4-12C GT3 ART Grand Prix Team sponsored by Eurodatacar #12 - Grégoire Demoustier (FR) + Duncan Tappy (GB) + Mike Parisy (FR) + Ulric Amado (PT) - 24 Hours SPA Francorchamps, Blancpain Endurance Series 2012 - water slide decals and placement instructions - for Fujimi references FJ12555, FJ125558, RS-44, FJ125633, 12563, RS-41, FJ125701, 12570, RS-74, FJ125879 and RS-62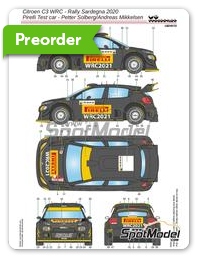 LB Production: Marking / livery 1/24 scale - Citroen C3 WRC Saintéloc Junior Team sponsored by Pirelli - Petter Solberg (NO) + Andreas Mikkelsen (NO) - Rally de Italia Sardegna 2020 - water slide decals and placement instructions - for Belkits references BEL018 and BEL-018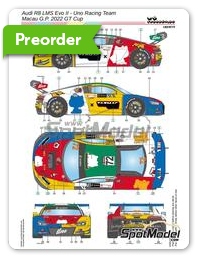 LB Production: Marking / livery 1/24 scale - Audi R8 LMS GT3 Evo II Uno Racing Team sponsored by Tarmac Works #72 - Adderly Cheun Yue Fong (HK) - Galaxy Entertainment Macau GT Cup 2022 - water slide decals and placement instructions - for Nunu references PN24026 and NU24026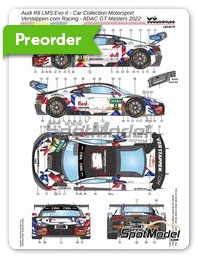 LB Production: Marking / livery 1/24 scale - Audi R8 LMS GT3 Evo II Car Collection Motorsport Team sponsored by RB Exxaero #33 - Thierry Vermeulen (NL) + Mattia Drudi (IT) - ADAC GT Masters 2022 - water slide decals and placement instructions - for Nunu references PN24026 and NU24026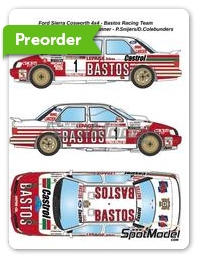 LB Production: Marking / livery 1/24 scale - Ford Sierra Cosworth Group A Bastos racing Team sponsored by Castrol #1, 6 - Patrick Snijers (BE) + Dany Colebunders (BE) - 24 Hours de Ypres Rally 1991 and 1992 - water slide decals, placement instructions and tobacco sponsor decals - for D.Modelkits references DM-K001 and DM-K002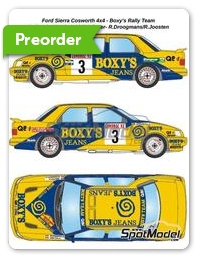 LB Production: Marking / livery 1/24 scale - Ford Sierra Cosworth 4x4 Group A sponsored by Boxy's Jeans #2 - Robert Droogmans (BE) + Ronny Joosten (BE) - Omloop Van Vlaanderen Rally 1992 - water slide decals and placement instructions - for D.Modelkits references DM-K001 and DM-K002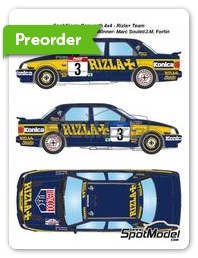 LB Production: Marking / livery 1/24 scale - Ford Sierra Cosworth 4x4 Group A sponsored by Rizla+ #3 - Marc Soulet (BE) + Jean-Marc Fortin (BE) - Omloop Van Vlaanderen Rally 1992 - water slide decals and placement instructions - for D.Modelkits references DM-K001 and DM-K002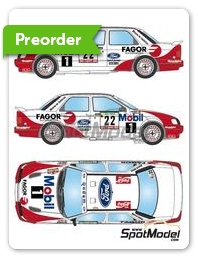 LB Production: Marking / livery 1/24 scale - Ford Sierra Cosworth 4x4 Group A Rodamsport Team sponsored by Fagor #22 - José Miguel (PT) + António Manuel (PT) - Portugal Rally - Vinho do Porto 1993 - water slide decals and placement instructions - for D.Modelkits references DM-K001 and DM-K002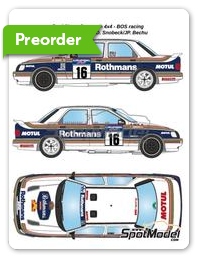 LB Production: Marking / livery 1/24 scale - Ford Sierra Cosworth 4x4 Group A sponsored by Rothmans #16 - Dany Snobek (FR) + Jean-Pierre Bechu (FR) - Rally Du Var 1991 - water slide decals, placement instructions and tobacco sponsor decals - for D.Modelkits references DM-K001 and DM-K002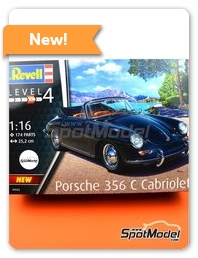 Revell: Car scale model kit 1/16 scale - Porsche 356 Cabriolet 1964 - plastic parts, rubber parts, water slide decals, assembly instructions and painting instructions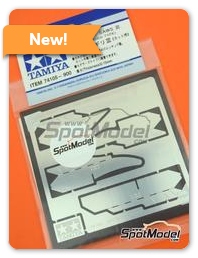 Tamiya: Hobby tool - Fine Craft Saws III (Thick-Bladed Type) 0,15mm - photo-etched parts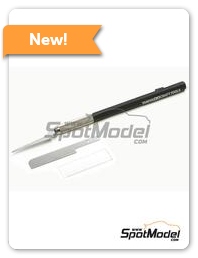 Tamiya: Hobby tool - Handy Craft Saw II - for Tamiya references TAM74094, TAM74097 and TAM74105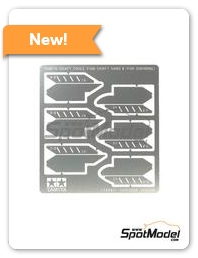 Tamiya: Hobby tool - Fine Craft Saws II (for Scribing) 0,1mm - photo-etched parts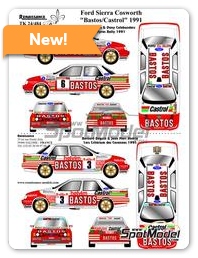 Renaissance Models: Marking / livery 1/24 scale - Ford Sierra Cosworth 4x4 Group A RAS Sport Team sponsored by Bastos Castrol #3, 6 - Bernard Béguin (FR) + Jean-Marc Andrié (FR), Patrick Snijers (BE) + Dany Colebunders (BE) - 24 Hours de Ypres Rally, Rallye Critérium des Cévennes 1991 - water slide decals, placement instructions and tobacco sponsor decals - for D.Modelkits references DM-K001 and DM-K002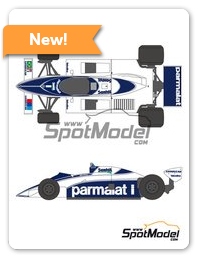 Shunko Models: Marking / livery 1/20 scale - Brabham BT50 Brabham Racing Organisation Team sponsored by Parmalat #1, 2 - Nelson Piquet (BR), Riccardo Patrese (IT) - Formula 1 World Championship 1982 - water slide decals and assembly instructions - for Tamiya reference TAM20017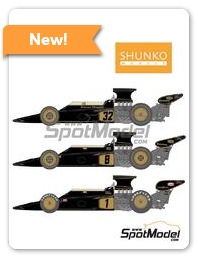 Shunko Models: Marking / livery 1/12 scale - Lotus Ford Type 72D Lotus Team sponsored by John Player Special #1, 8, 32 - Emerson Fittipaldi (BR), Dave Walker (AU), Reine Wisell (SE) - Belgian Formula 1 Grand Prix, Brazilian Formula 1 Grand Prix, British Formula 1 Grand Prix, Italian Formula 1 Grand Prix, USA - United States of America Formula 1 Grand Prix 1972 and 1973 - water slide decals, assembly instructions and tobacco sponsor decals - for Tamiya references TAM12013, BS1213 and TAM12046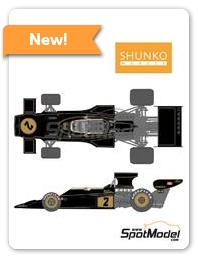 Shunko Models: Marking / livery 1/20 scale - Lotus Ford Type 72E Lotus Team sponsored by John Player Special #1, 2 - Emerson Fittipaldi (BR), Ronnie Peterson (SE) - Italian Formula 1 Grand Prix, USA - United States of America Formula 1 Grand Prix 1973 - water slide decals, assembly instructions and tobacco sponsor decals - for Ebbro reference EBR20009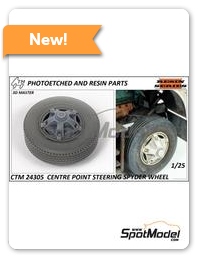 Czech Truck Model: Rims and tyres set 1/25 scale - Centre point steering spyder rims and tyres - resin parts - 2 units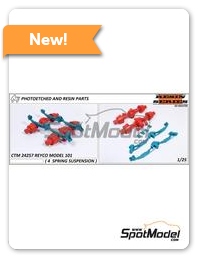 Czech Truck Model: Detail up set 1/25 scale - Reyco Model 101 suspension set - resin parts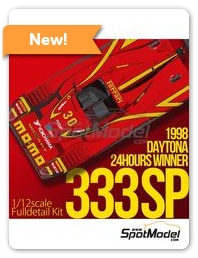 Model Factory Hiro: Car scale model kit 1/12 scale - Ferrari 333 SP Doran-Moretti Racing Team sponsored by Momo #30 - Gianpiero Moretti (IT) + Arie Luyendyk (NL) + Mauro Baldi (IT) + Didier Theys (BE) - 24 Hours of Daytona 1998 - metal parts, photo-etched parts, resin parts, rubber parts, turned metal parts, water slide decals, white metal parts, assembly instructions and painting instructions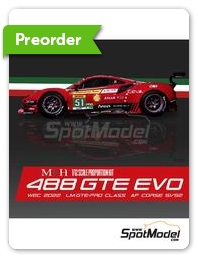 Model Factory Hiro: Car scale model kit 1/12 scale - Ferrari 488 GTE Evo AF Corse Team #51, 52 - Alessandro Pier Guidi (IT) + James Calado (GB), Miguel Molina (ES) + Antonio Fuoco (IT) - FIA World Endurance Championship 2022 - photo-etched parts, resin parts, rubber parts, turned metal parts, water slide decals, white metal parts, other materials, assembly instructions and painting instructions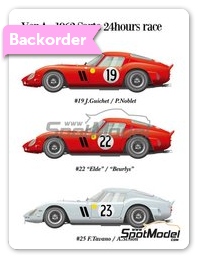 Model Factory Hiro: Car scale model kit 1/12 scale - Ferrari 250 GTO #19, 22, 23 - Jean Guichet (FR) + Pierre Noblet (BE), Léon 'Eldé' Dernier (BE) + Jean 'Beurlys' Blaton (BE), Fernand Tavano (FR) + André Simon (FR) - 24 Hours Le Mans 1962 - photo-etched parts, resin parts, rubber parts, seatbelt fabric, turned metal parts, vacuum formed parts, water slide decals, white metal parts, other materials and assembly instructions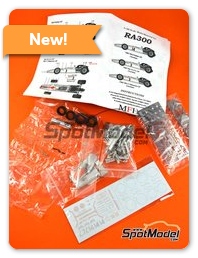 Model Factory Hiro: Car scale model kit 1/43 scale - Honda RA300 #3, 7, 14 - John Surtees (GB) - Italian Formula 1 Grand Prix, Mexican Formula 1 Grand Prix, USA - United States of America Formula 1 Grand Prix 1967 - metal parts, photo-etched parts, rubber parts, turned metal parts, vacuum formed parts, water slide decals, white metal parts and assembly instructions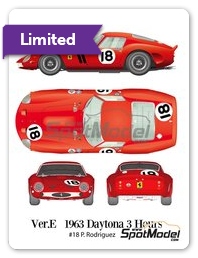 Model Factory Hiro: Car scale model kit 1/12 scale - Ferrari 250 GTO N.A.R.T. Team #18 - Pedro Rodriguez (MX) - Daytona 3 Hours 1963 - photo-etched parts, resin parts, rubber parts, seatbelt fabric, turned metal parts, vacuum formed parts, water slide decals, white metal parts, other materials and assembly instructions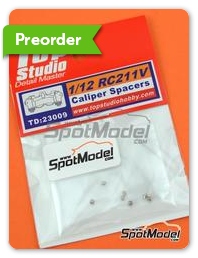 Top Studio: Detail 1/12 scale - Caliper Spacers Honda RC211V - turned metal parts - for Tamiya references TAM14092, TAM14095, TAM14096, TAM14097, TAM14106, TAM14107 and TAM14108 - 8 units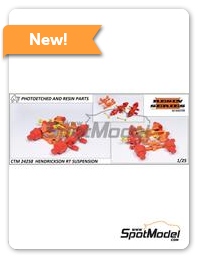 Czech Truck Model: Detail up set 1/25 scale - Hendrickson RT suspension set - resin parts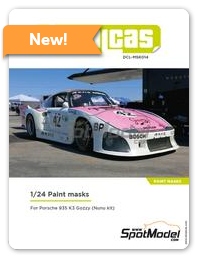 Decalcas: Masks 1/24 scale - Porsche Kremer 935 K3 sponsored by Gozzy - paint masks - for Nunu reference PN24029, or Shunko Models reference SHK-D441, or Studio27 reference ST27-DC1225
Copyright © SpotModel