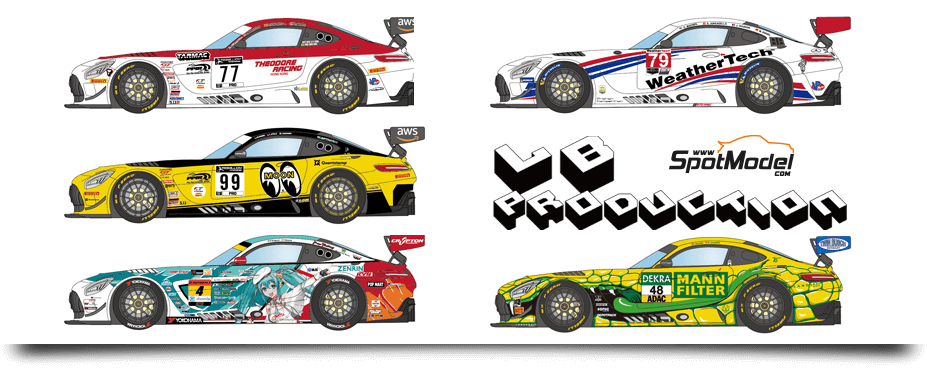 ...and more to come!!!
As everyone knows, we love talking about novelties, both about the new references that we receive at
SpotModel
, as well as about the references that manufacturers announce for the coming months. But this time we go sooooo much further: we are going to talk about some products that have not yet been even announced... What do you think?
Well, we still don't know the reference numbers, so we can't upload them to the
SpotModel
website yet, but that's no problem for us to tell you what
LB Production
is working on. To begin with, they are preparing a
transkit
to build the
Mercedes Benz AMG GT3 EVO
based on the
Tamiya
model, designed and produced with
3D
technology. And to continue, related to that
transkit
they are going to offer us
various liveries
, each one more amazing and mindblowing than the other:
Theodore Racing
,
Mooneyes
,
Good Smile
,
Mann Filter
,
WeatherTech
... Applause, please, these guys are absolutely on fire!!!
Now you can start making room on the shelf like we are, because the next few months are going to be really stressful. XD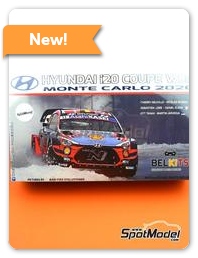 Belkits: Car scale model kit 1/24 scale - Hyundai i20 Coupe WRC Hyundai Shell Mobis WRT Team #8, 9, 11 - Ott Tanak (EE) + Martin Järveoja (EE), Sebastien Loeb (FR) + Daniel Elena (MC), Thierry Neuville (BE) + Nicolas Gilsoul (BE) - Monte Carlo Rally - Rallye Automobile de Monte-Carlo 2020 - photo-etched parts, plastic parts, rubber parts, seatbelt fabric, water slide decals, assembly instructions and painting instructions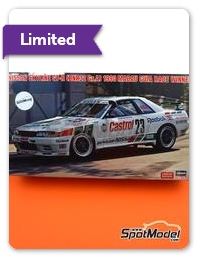 Hasegawa: Car scale model kit 1/24 scale - Nissan Skyline GT-R BNR32 Group A Hasemi Motorsport Team sponsored by Castrol Reebok #23 - Masahiro Hasemi (JP) - Guia Race of Macau 1990 - paint masks, plastic parts, rubber parts, water slide decals, assembly instructions and painting instructions
StreetBlisters: Flocking - Black - other materials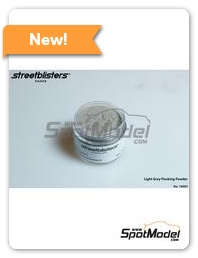 StreetBlisters: Flocking - Light grey - other materials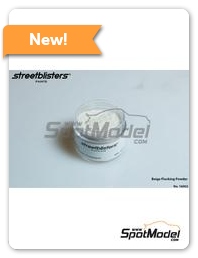 StreetBlisters: Flocking - Beige - other materials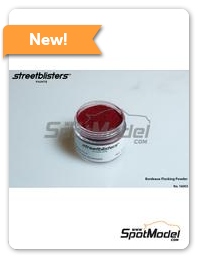 StreetBlisters: Flocking - Bordeaux - other materials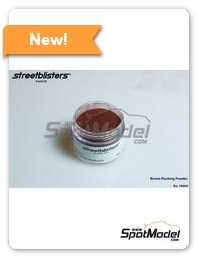 StreetBlisters: Flocking - Brown - other materials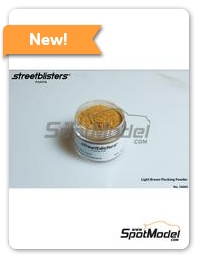 StreetBlisters: Flocking - Light brown - other materials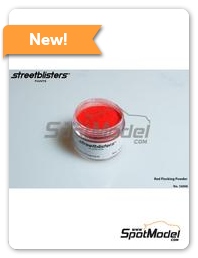 StreetBlisters: Flocking - Red - other materials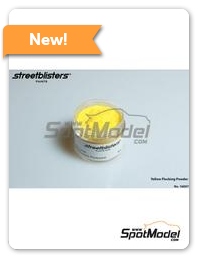 StreetBlisters: Flocking - Yellow - other materials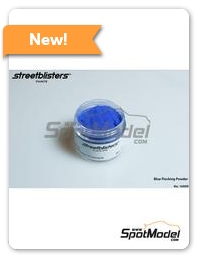 StreetBlisters: Flocking - Blue - other materials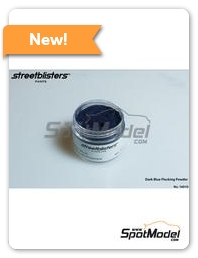 StreetBlisters: Flocking - Dark Blue - other materials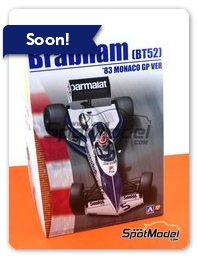 Beemax Model Kits: Car scale model kit 1/20 scale - Brabham BMW BT52 Brabham Racing Organisation Team sponsored by Parmalat #5, 6 - Nelson Piquet (BR), Riccardo Patrese (IT) - FIA Formula 1 World Championship 1983 - plastic parts, rubber parts, water slide decals and assembly instructions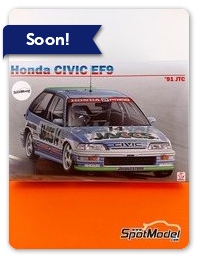 Beemax Model Kits: Car scale model kit 1/24 scale - Honda Civic EF9 Group A Mooncraft Team sponsored by Jaccs #14 - Akihiko Nakaya (JP) + Naoki Hattori (JP) - JTC InterTEC Championship 1991 - plastic parts, rubber parts, water slide decals, assembly instructions and painting instructions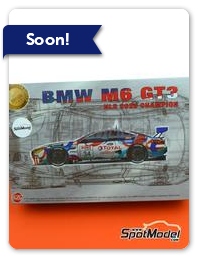 Nunu: Car scale model kit 1/24 scale - BMW M6 GT3 Walkenhorst Motorsport Team sponsored by Total Excellium #34 - David Pittard (GB) + Mikkel Jensen (DK) + Christian Krognes (NO) - VLN Nürburgring Endurance Series 2020 - plastic parts, rubber parts, water slide decals, assembly instructions and painting instructions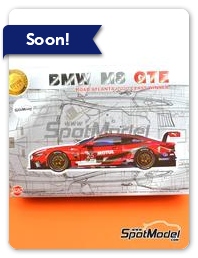 Nunu: Car scale model kit 1/24 scale - BMW M8 GTE BMW Motorsport RLL Team sponsored by Motul #25 - Bruno Spengler (CA) + Connor De Phillippi (US) - Road Atlanta 6 Hours 2020 - plastic parts, rubber parts, water slide decals, assembly instructions and painting instructions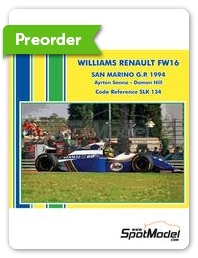 Tameo Kits: Car scale model kit 1/43 scale - Williams Renault FW16 Williams Grand Prix Engineering Team sponsored by Rothmans #0, 2 - Damon Hill (GB), Ayrton Senna da Silva (BR) - San Marino Formula 1 Grand Prix 1994 - metal parts, photo-etched parts, rubber parts, turned metal parts, vacuum formed parts, water slide decals, white metal parts, assembly instructions, painting instructions and tobacco sponsor decals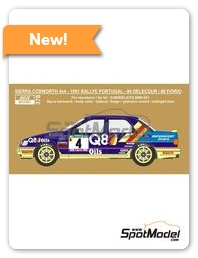 Reji Model: Marking / livery 1/24 scale - Ford Sierra Cosworth 4x4 Group A sponsored by Q8 Oils #4, 8 - Francois Delecour (FR) + Anne-Chantal Pauwels (FR), Alex Fiorio (IT) + Luigi Pirollo (IT) - Portugal Rally - Vinho do Porto 1991 - resin parts, water slide decals and placement instructions - for D.Modelkits reference DM-K001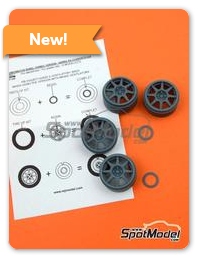 Reji Model: Rims 1/24 scale - Compomotive for Ford Sierra Cosworth 4x4 Group A - 3D printed parts - for D.Modelkits references DM-K001 and DM-K002 - 4 units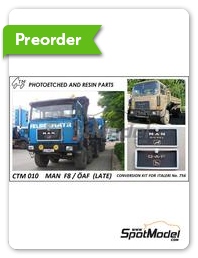 Czech Truck Model: Scale model kit 1/24 scale - MAN F8 / ÖAF (Late) - photo-etched parts - for Italeri reference 756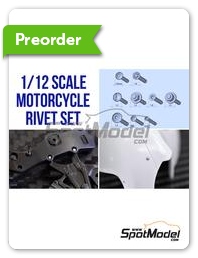 Model Factory Hiro: Nuts 1/12 scale - Motorcycle rivets and nuts set - 3D printed parts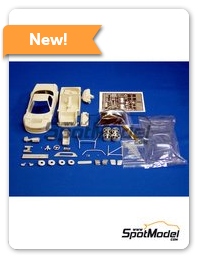 Studio27: Car scale model kit 1/24 scale - Honda NSX GT2 Kunimitsu Team sponsored by Kaneko #84 - Keiichi Tsuchiya (JP) + Akira Iida (JP) + Kunimitsu Takahashi (JP) - 24 Hours Le Mans 1995 - photo-etched parts, resin parts, rubber parts, vacuum formed parts, water slide decals, white metal parts and assembly instructions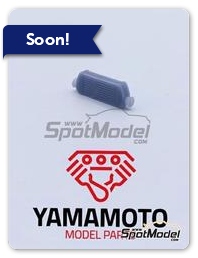 Yamamoto Model Parts: Detail 1/24 scale - Intercooler type A - 3D printed parts - 1 units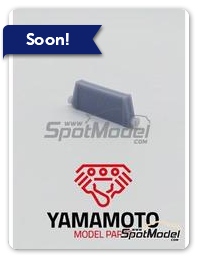 Yamamoto Model Parts: Detail 1/24 scale - Intercooler type B - 3D printed parts - 1 units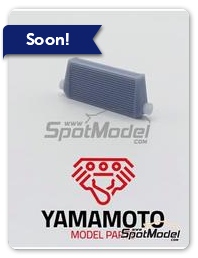 Yamamoto Model Parts: Detail 1/24 scale - Intercooler type C - 3D printed parts - 1 units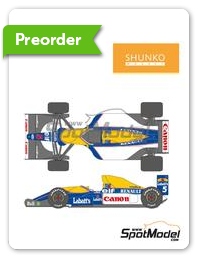 Shunko Models: Marking / livery 1/20 scale - Williams Renault FW14B Williams Grand Prix Engineering Team sponsored by Camel #5, 6 - Nigel Ernest James Mansell (GB), Riccardo Patrese (IT) - FIA Formula 1 World Championship 1992 - water slide decals, assembly instructions and tobacco sponsor decals - for Fujimi references FJ090528, 09052, GP-17, FJ090702, 09070, GP-24, FJ090757, 09075, GPSP-13, FJ090795, 09079, GP-26, FJ091976, 09079 and GP-26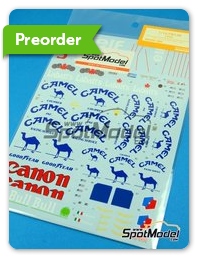 Shunko Models: Marking / livery 1/12 scale - Williams Renault FW14 Williams Grand Prix Engineering Team sponsored by Camel #5, 6 - Nigel Ernest James Mansell (GB), Riccardo Patrese (IT) - Formula 1 World Championship 1992 - water slide decals, placement instructions and tobacco sponsor decals - for Tamiya reference TAM12029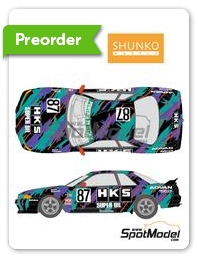 Shunko Models: Marking / livery 1/12 scale - Nissan Skyline GT-R Group A sponsored by HKS #87 - Yukihiro Hane (JP) + Osamu Hagiwara (JP) - Japan Touring Car Championship (JTCC) 1993 - water slide decals and placement instructions - for Fujimi references FJ14107, FJ14122, FJ141237 and FJ141848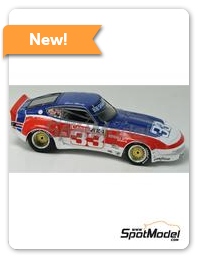 Arena Modelli: Car scale model kit 1/43 scale - Datsun 240Z Bob Sharp Racing Team sponsored by Canon #33 - Bob Sharp (US), Sam Posey (US) - IMSA Road Atlanta 100 Miles 1975 and 1977 - photo-etched parts, resin parts, rubber parts, turned metal parts, water slide decals, white metal parts, assembly instructions and painting instructions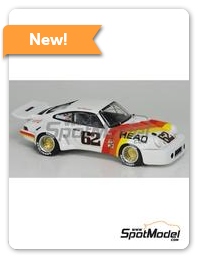 Arena Modelli: Car scale model kit 1/43 scale - Porsche 911 Carrera RSR Sports Limited Racing Team sponsored by Head #62 - Bob Bergstrom (US) + John Morton (US) - 5 Hours Mid Ohio 1974 - photo-etched parts, resin parts, rubber parts, turned metal parts, water slide decals, white metal parts, assembly instructions and painting instructions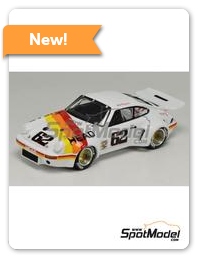 Arena Modelli: Car scale model kit 1/43 scale - Porsche 911 Carrera RSR Sports Limited Racing Team sponsored by Head #62 - Bob Bergstrom (US) - Laguna Seca IMSA GT 1974 - photo-etched parts, resin parts, rubber parts, turned metal parts, water slide decals, white metal parts, assembly instructions and painting instructions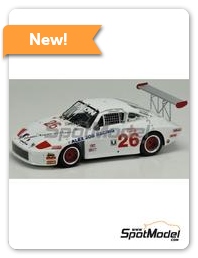 Arena Modelli: Car scale model kit 1/43 scale - Porsche 911 AJ Alex Job Racing Team sponsored by Harris American Homes #26 - Butch Hamlet (US) + Bill Ferran (US) + Charles Slater (US) - 12 Hours Sebring 1993 - photo-etched parts, resin parts, rubber parts, turned metal parts, water slide decals, white metal parts, assembly instructions and painting instructions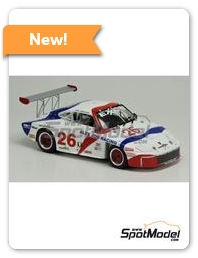 Arena Modelli: Car scale model kit 1/43 scale - Porsche 911 AJ Alex Job Racing Team #26 - Charles Slater (US) + Bill Ferran (US) - Watkins Glen 500 Kilometres 1993 - photo-etched parts, resin parts, rubber parts, turned metal parts, water slide decals, white metal parts, assembly instructions and painting instructions
Copyright © SpotModel