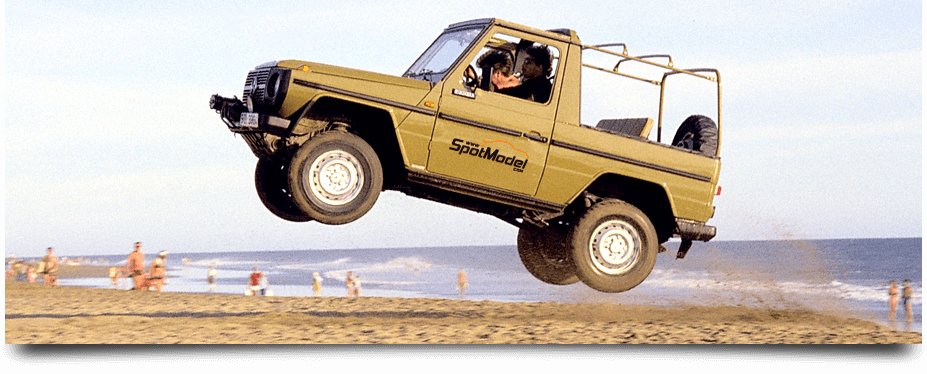 Mercedes 230 G
Some time ago I had the opportunity to get into a car that looked quite "square", "sober", I dare to say even "boring", but I got a huge surprise... because under that lamb skin lies a true beast endowed with a truly robust mechanic. Unlike modern 4x4, this machine has very few electronic devices, it is all pure mechanics, and this makes the
Mercedes 230 G
a very sought-after jewel among
extreme 4x4 lovers
since you can repair almost any breakdown that could happen to you with just a screwdriver and a monkey wrench.
The closed
ESCI
brand had the chance to recreate the
Mercedes 230 G
in
1/24 scale
a looooooong long time ago, and
Italeri
lads have managed to rescue the molds and re-edit, for a limited time, the original model... Bravo!!! No doubt you have to put a little love on it if you are an extreme modeler, but you will be able to enjoy a correct kit and spend some good times with it
Engage the reduction gear and climb to
SpotModel's
website, you'll have a great time!!!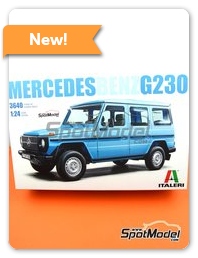 Italeri: Model car kit 1/24 scale - Mercedes Benz 230 G 1979 and 1980 - plastic parts, rubber parts, water slide decals, assembly instructions and painting instructions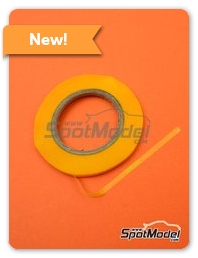 SpotModel: Masks - Masking tape - 3mm x 20m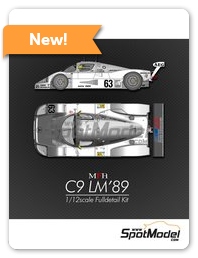 Model Factory Hiro: Model car kit 1/12 scale - Sauber Mercedes C9 #61, 62, 63 - 24 Hours Le Mans 1989 - CNC metal parts, metal parts, photo-etched parts, resin parts, rubber parts, seatbelt fabric, turned metal parts, vacuum formed parts, water slide decals, white metal parts, other materials, assembly instructions and painting instructions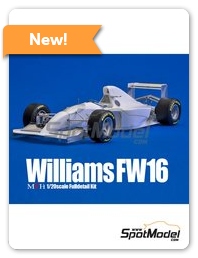 Model Factory Hiro: Model car kit 1/20 scale - Williams Renault FW16 Rothmans #0, 2 - Ayrton Senna da Silva (BR), Damon Hill (GB) - San Marino Formula 1 Grand Prix 1994 - photo-etched parts, resin parts, rubber parts, turned metal parts, vacuum formed parts, water slide decals, white metal parts, assembly instructions and painting instructions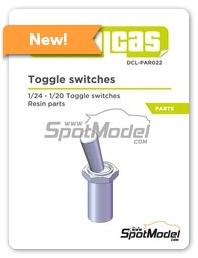 Decalcas: Detail 1/24 scale - Toggle switches - resin parts - 24 units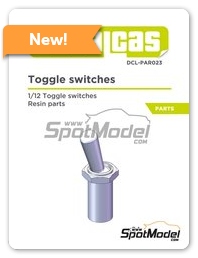 Decalcas: Detail 1/12 scale - Toggle switches - resin parts - 24 units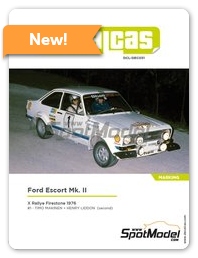 Decalcas: Marking / livery 1/24 scale - Ford Escort Mk. II #1 - Timo Mäkinen (FI) + Henry Liddon (GB) - Rallye Firestone 1976 - water slide decals and assembly instructions - for Italeri references 3650, IT3650, ITA3650 and 3655, or Revell references REV07374 and 7374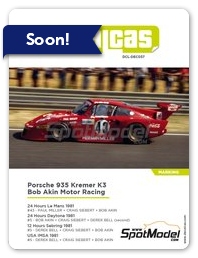 Decalcas: Marking / livery 1/24 scale - Porsche Kremer 935 K3 Bob Akin Motor Racing Coca Cola #43 - Paul Miller (US) + Craig Siebert (US) + Bob Akin (US) - 12 Hours Sebring, 24 Hours of Daytona, 24 Hours Le Mans, IMSA 1981 - paint masks, water slide decals manufactured with digital technology, assembly instructions and painting instructions - for Nunu reference PN24006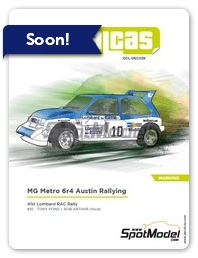 Decalcas: Marking / livery 1/24 scale - MG Metro 6r4 Group B Austin Rallying #10 - Tony Pond (GB) + Arthur Rob (GB) - Lombard RAC Rally 1985 - water slide decals manufactured with digital technology, assembly instructions and painting instructions - for Belkits references BEL015, BEL-015, BEL016 and BEL-016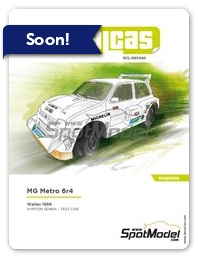 Decalcas: Marking / livery 1/24 scale - MG Metro 6r4 Group B - Ayrton Senna da Silva (BR) - Test Walles 1986 - water slide decals manufactured with digital technology, assembly instructions and painting instructions - for Belkits references BEL015, BEL-015, BEL016 and BEL-016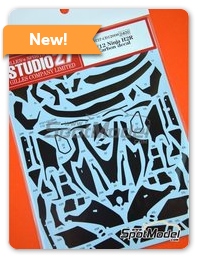 Studio27: Carbon fibre pattern decal 1/12 scale - Kawasaki Ninja H2R - water slide decals and assembly instructions - for Tamiya reference TAM14131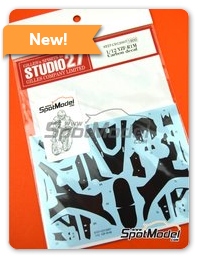 Studio27: Carbon fibre pattern decal 1/12 scale - Yamaha YZF-R1M - water slide decals and assembly instructions - for Tamiya references TAM14133, HC-14133 and TMY14133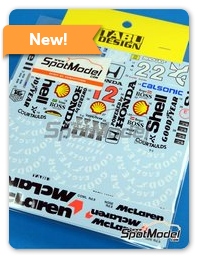 Tabu Design: Marking / livery 1/12 scale - McLaren Honda MP4/6 Marlboro #1, 2 - Ayrton Senna da Silva (BR), Gerhard Berger (AT) - FIA Formula 1 World Championship 1991 - water slide decals and assembly instructions - for Tamiya references TAM12028, TAM49571 and TAM89721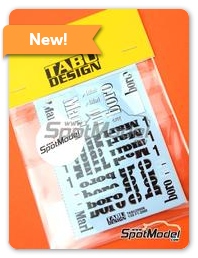 Tabu Design: Marking / livery 1/20 scale - Ferrari F1 2000 Marlboro #1 - FIA Formula 1 World Championship 2000 - water slide decals - for Tamiya references TAM20048 and TAM20049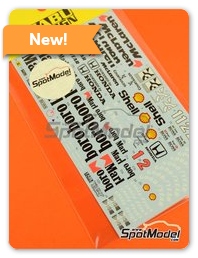 Tabu Design: Marking / livery 1/20 scale - McLaren Honda MP4/7 Marlboro Shell #1, 2 - Ayrton Senna da Silva (BR), Gerhard Berger (AT) - FIA Formula 1 World Championship 1992 - water slide decals - for Tamiya reference TAM25171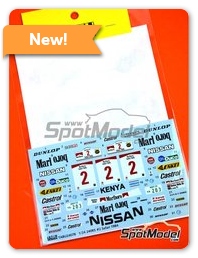 Tabu Design: Marking / livery 1/24 scale - Nissan 240RS BS110 Group B Marlboro #2 - Shekhar Mehta (KE) + R. Combe (KE) - Safari Rally 1984 - water slide decals - for Beemax Model Kits references B24008, Aoshima 085790, B24014 and Aoshima 104330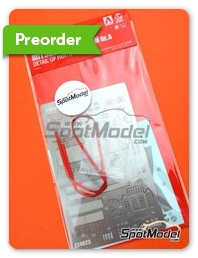 Beemax Model Kits: Detail up set 1/24 scale - Mitsubishi Starion Rally Group A - photo-etched parts, seatbelt fabric, turned metal parts, water slide decals and other materials - for Beemax Model Kits reference B24023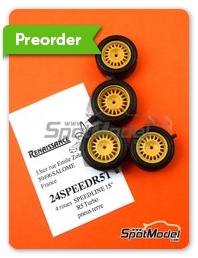 Renaissance Models: Rims and tyres set 1/24 scale - Speedline 15 inches - resin parts and rubber parts - for Heller reference 80717, or Tamiya reference TAM24027 - 4 units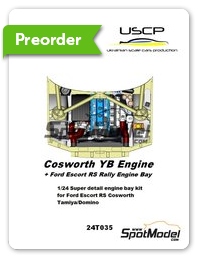 Ukrainian Scale Cars Production: Engine 1/24 scale - Ford Escort RS Cosworth - photo-etched parts and resin parts - for Domino reference DMN24144, or Tamiya references TAM24144, TAM24153, TAM24171 and TAM24xxx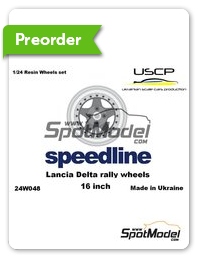 Ukrainian Scale Cars Production: Rims and tyres set 1/24 scale - Speedline Rally 16 inches - resin parts and rubber parts - 4 units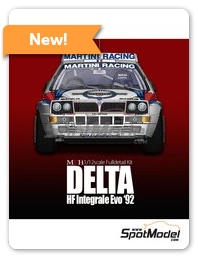 Model Factory Hiro: Model car kit 1/12 scale - Lancia Delta Integrale Evo Martini Racing Team #1, 4 - Didier Auriol (FR) + Bernard Occelli (FR), Juha Kankkunen (FI) + Juha Piironen (FI) - Monte Carlo Rally - Rallye Automobile de Monte-Carlo 1992 - CNC metal parts, metal parts, photo-etched parts, resin parts, rubber parts, seatbelt fabric, turned metal parts, vacuum formed parts, water slide decals, white metal parts, other materials, assembly instructions and painting instructions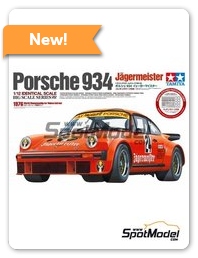 Tamiya: Model car kit 1/12 scale - Porsche 934 Turbo RSR Group 4 Jagermeister #24 - European GT Championship 1976 - photo-etched parts, plastic parts, rubber parts, seatbelt fabric, water slide decals, other materials, assembly instructions and painting instructions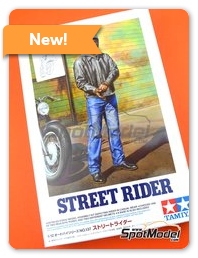 Tamiya: Figure 1/12 scale - Street Rider Figure - plastic parts, assembly instructions and painting instructions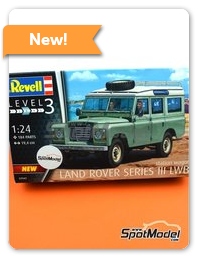 Revell: Model car kit 1/24 scale - Land Rover Serie III LWB Station Wagon - plastic parts, rubber parts, water slide decals, assembly instructions and painting instructions
Copyright © SpotModel